What we cover: "For temporary results, commit to temporary changes. For permanent results, commit to permanent ones." —Karin Fortin Jackson, 3-time Ironman finisher, who lost 120 pounds
What we cover: "For temporary results, commit to temporary changes. For permanent results, commit to permanent ones." —Karin Fortin Jackson, 3-time Ironman finisher, who lost 120 pounds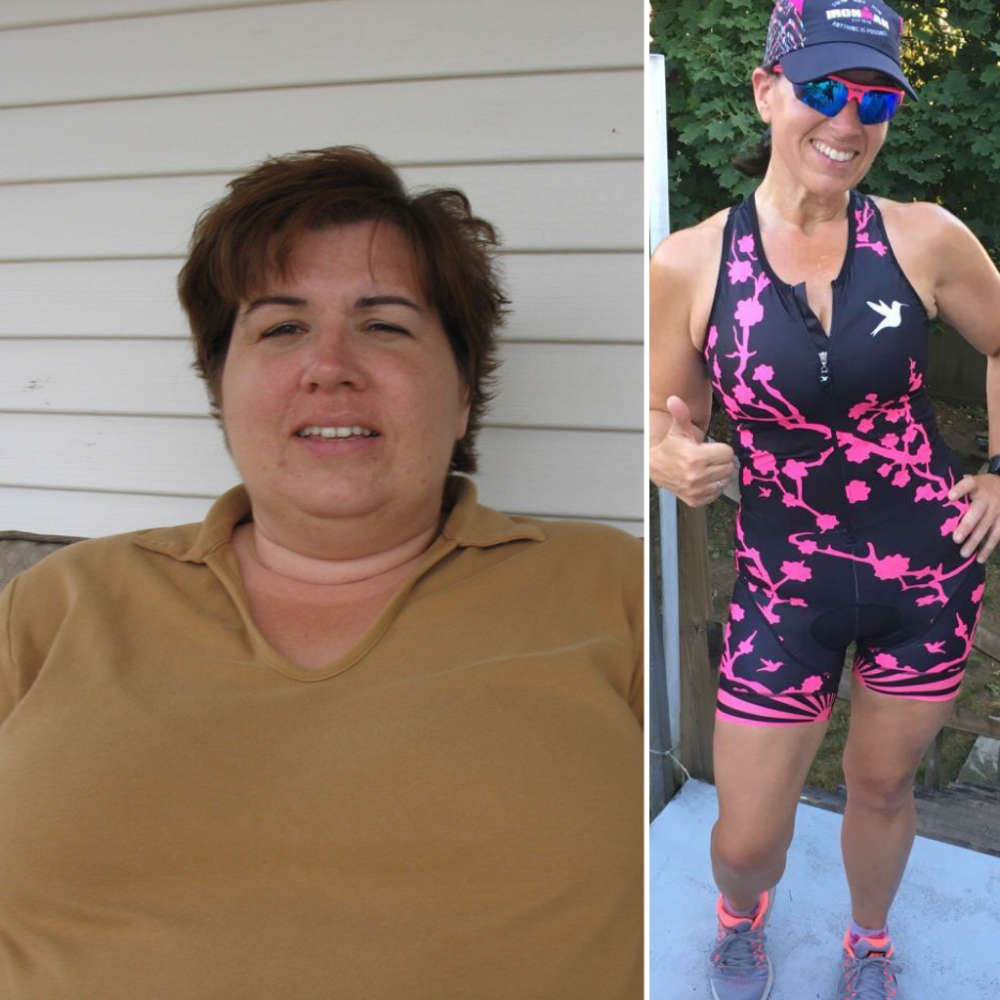 In 18 months of conversations with people I admire, this might rank as my most favourite chat yet. And I say that with the full admission that I have loved every one of my Guest Titan encounters. Karin Fortin Jackson is so honest, so unassuming, so humble, so candid. She allows us a private peek inside her very personal journey – a journey that has a clear "before" and a clear "after". She walks us through her "before years" – from the day as a child when she was called "fatso" to her days as an adult who chose to accept the label until she ultimately found herself as a 255-pound mother of two, who couldn't shop from the bottom shelves at the grocery store for fear of not being able to hoist herself back up again.
Part One of our conversation delves into these years – the "before years" — who she was and what was going on in her life. Part Two takes a look at the "after years" and how things began to shift for her from January 1, 2008 to today, — ten years later. She admits freely that there was no trauma she was sedating herself from, there was no form of self-medicating, in those years when she chose to live her life on the couch – this is just who she was, this was the definition of herself she chose to believe. And similarly, she admits that there were no trumpets, no lightening bolts, no big ahas when she finally made the decision to strive for more. Today, 120-pounds lighter, she is a 3-time ironwoman, a soon-to-be 6-time marathoner, and is as vibrant and joyful and active a participant in life as they come.
With an estimated 1 in four North Americans living in and around the obesity mark, Karin's story is certainly not unique. While the details may differ from person to person, the feelings are so often the same. She's not special in that regard. As an obese woman, she juggled a career, two young children, and the demands of daily life – just like we all do. But eventually — and this is why she is special — she incorporated a slow commitment to gradual massive change, inch by inch, month by month, year by year. So if you think you don't have the time, or if you're waiting for your big a-ha – you just may be denying yourself your best chance to live a vibrant life. My friend and mentor Sharon Shales says: "If we wait until we are ready, we will be waiting for the rest of our lives."
This is not a conversation about following a specific diet. I have no idea if Karin is vegan or paleo. That's not what this is about. And the food plan that works best for you is of course entirely your business. This is an open conversation about the feelings and the events that come with living unconsciously, and the gradual transformation that occurs when you instead live with your eyes wide open. When you chose to love yourself more than you love – in Karin's case and in Karin's words – the pizza and the chocolate and the wine.
The reason I started this series, is so that my two daughters, Majella (who we call JouJou) and Burgess (who we call Birdie) will have an inventory of inspiring conversations with paradigm-busters to draw upon for those times in their lives when they feel stuck. Each conversations give me the gift of at least one perspective shift – a new way of looking at the situation. And I want to thank Karin for reminding me that if we want temporary results in our lives – then commit to something temporarily. If we want permanent results, then we must stick to something permanently.
Thanks, Karin. I am going to go and sign up for a 5k run now.
How you can learn more: Karin's blog kjrunnin.blogspot.ca