Mary-Jo Dionne Productions
Home of the poly-hyphenated communications junkie
THE ONE-WOMAN SHOW
Called "a real crowd pleaser" by the CBC, Glowing: A Reproduction Production chronicles Mary-Jo's rocky road to motherhood. Buy tickets now for shows on both Canadian coasts.
THE WRITER
Mary-Jo is an award-winning ad copywriter who has worked on some of North America's biggest brands. As a mag contributor, her print pieces have appeared locally and globally.
THE SPEAKER
Mary-Jo is a much sought-after event emcee, keynote speaker, and panel moderator, having engaged audiences ranging in size from 25 to 1,500 people.
What the heck do we mean by "poly-hyphenated", anyway?
For years, Mary-Jo would beat herself up (figuratively only -- she never once resorted to violence) for being what she construed as "fragmented". She did a little of this, a little of that, a lot of this, and a lot of that. But never one thing and one thing only. Then, a friend showed her a Fast Company article about actor-director-musician-entrepreneur Jared Leto in which he refers to himself as a "poly-hyphenated whatever" who enjoys "the stimulation of learning."
In that moment, she heard the angels sing, and -- just like that -- she felt fragmented no more.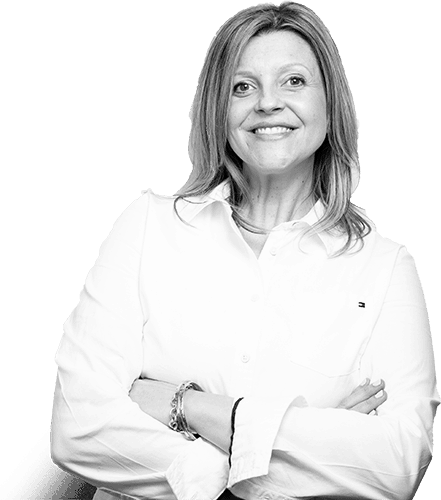 Thank you so much for writing such a smart, funny, complimentary article.
As the moderator of a business panel in Sir Richard Branson's living room on Necker Island, Mary-Jo charmed the audience with her wit and wisdom. Being one of the panelists, I found her candour and confidence reassuring as she engaged with us, keeping the conversation flowing and lively. In addition to her natural comedic skills, I found Mary-Jo to be the utmost professional in her preparation and delivery of content.
Mary-Jo's knowledge, empathy, and passion made her a vibrant addition to our TEDx event. Undoubtedly, she was an audience favourite, connecting with them on multiple levels and delivering a strong message of hope and positivity. Her use of humour and emotion to reinforce underlying themes created easily identifiable connections and clear takeaways. She gets it… full stop. 
The Podcast -- Tea with a Titan: Conversations Steeped in Greatness
Downloaded in approximately 80 countries since its 2016 launch, Tea with a Titan is a series during which Mary-Jo speaks with those people who have one thing in common: The ability to provide a perspective shift, despite the obstacles. Be it entrepreneur, athlete, artist, entertainer, thought-leader, or difference-maker, if the target is one where mastery meets authenticity — even in the face of hurdles and hiccups — Mary-Jo wants to (and frequently does) have tea with them. SEE ALL EPISODES