Philanthropy
Warm and Fuzzy: When you work with Mary-Jo, you contribute to something meaningful
As one of those people who will encourage you to sign a petition, read an important article, or contribute to helping find solutions to societal areas in need of a bit of TLC, over the last two decades Mary-Jo has been committed to donating a percentage of every project's billings to worthy endeavours — especially as it pertains to helping children living in poverty and/or fighting critical illness.
To that end, since 2002, she has spearheaded initiatives that have garnered nearly $200,000 in contributions to a variety of local, national, and global causes.
This includes her 2006 "Pale is the new tanned" awareness swim from Alcatraz Prison to the shores of the San Francisco Bay for the Canadian Melanoma Society and her 2014 running of the London Marathon which generated much-needed funds for both Children with Cancer (UK) and Kolbi's Cause.
She is the founder of Will's Harem, the all-women running group who ran the Halifax Marathon events in support of the William Dennis Chair in Pediatric Epilepsy Research, created in honour of the memory of her dear friend Will Dennis.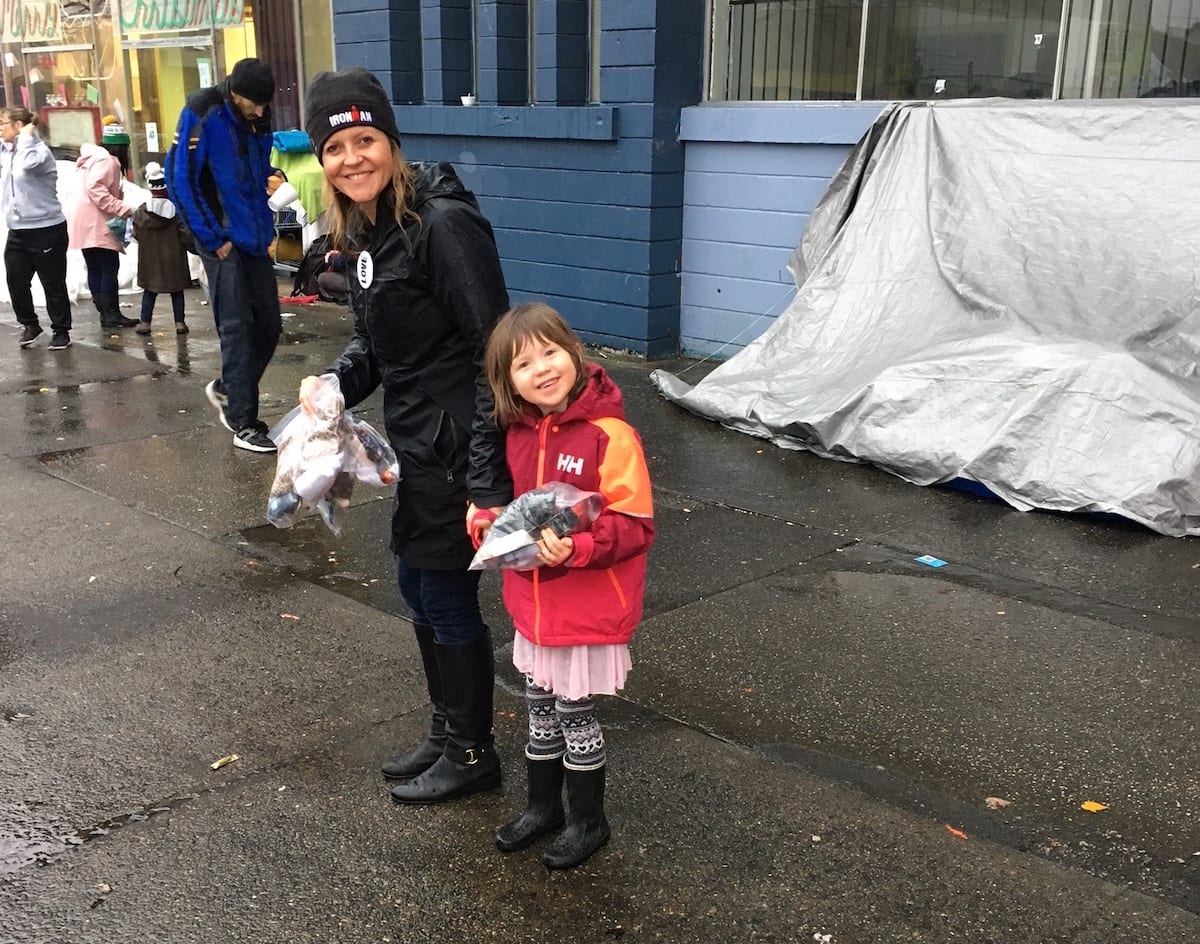 She is the past organizer and host of the annual Wine & Fleas cocktail party and collection drive, which contributed thousands of pounds of supplies for animal rescue organizations North America-wide, and she is founder of TheFleasKnees tees, a line of tees dedicated to celebrating responsible pet guardianship, which changed ownership in 2015.
She is the founder of Cupcake Christmas, which sees women in communications come together to hand out cupcakes to residents on Vancouver's downtown eastside. And she is founder of The Bag Brigade, annual initiative which ensures gently used purses stocked with supplies and essentials are handed out to women in need in Vancouver's poorest neighbourhoods and women's shelters. Since 2017, approximately 250 homeless and low-income women have received a new-to-them purse.
In 2015, Mary-Jo was thrilled to announce the launch of The Mary-Jo Dionne Productions Fund. Working in tandem with the good people of Vancity Community Foundation, Mary-Jo launched The Millipede Project which is committed to getting a minimum of 500 Vancouver-area kids-in-need a new pair of back-to-school shoes each year.
In 2017, Mary-Jo was named a Vancouver "Difference Maker" by The Georgia Straight newspaper for her philanthropic contributions. In that same year, she was invited as one of 20 global social entrepreneurs to spend a week at Sir Richard Branson's home estate on Necker Island as a member of the Change Makers and Rule Breakers.
In 2018, Mary-Jo was invited to become a member of Dress for Success Vancouver's Dress Circle — a selected group of passionate people committed to supporting the work of this incredible organization.
In 2018, she and her husband, well-respected plant-based endurance athlete Chad Bentley, embarked on a campaign to raise funds and awareness for five local initiatives — when Chad succeeded at tackling Epic5, 5 Ironman-distance races in 5 days on 5 Hawaiian islands. Recipients of their awareness campaign were: Canuck Place Children's Hospice, The Millipede Project, the CNIB Youth Services, Minerva's Indigenous Roots leadership program for Aboriginal Girls, and Terry Fox's PROFYL program which aims to improve health outcomes for children with cancer.
And also in 2018, as the winner of the YWCA Woman of Distinction "Connecting the Community" Award, Mary-Jo was able to channel $10,000 in funding to Crabtree Corner, serving women and children on Vancouver's downtown eastside. In 2019, she launched Page Turners, an initiative which sees gently loved books collected for the children in need.
Read The Georgia Straight article, naming Mary-Jo a Vancouver Difference Maker
All told, when you work with Mary-Jo, you can be assured that — above and beyond the scope of the project — you are contributing to something meaningful.
When Mary-Jo was fundraising for the London Marathon, we were thrilled she included our son Kolbi, who at the time was battling a brain tumour, in her fundraising efforts.
Mary-Jo has this unique ability to connect with an audience that I have never witnessed before. I could watch and listen to her for hours.
Our guests were enchanted by Mary-Jo's grace, humour, and the gentle ease with which she was able to pull everyone together to step up and assist our organization.