Modern Dog Magazine
Writer: Mary-Jo Dionne
The Dog Whisperer: Cesar Millan
Magazine: ModernDog
Issue: Spring 2009

The first thing you notice when you meet César Millan are the multiple faces of his canine compadres staring from his SUV. The second thing you notice are his verging-on-illegal eyelashes. Yes, his eyelashes. Not something I detected while glued to my TV watching him "train people and rehabilitate dogs" on his Emmy-nominated series, The National Geographic Channel's Dog Whisperer. Almost uncomfortably perfect, the eyelashes evoke a fleeting thought that perhaps eyelash-fluttering-induced hypnosis is part of his magic. However, that theory is thrown out the window faster than a bag of dog poo in the garbage, when one witnesses the whispering firsthand. At the risk of sounding like a schoolgirl telling ghost stories around the campfire – one who swears this really happened – I assure you I observed the power of the "calm assertive pack leader" in action. I heard the famous "tsst!" with my own two ears.
Instantly friendly, this is a man who, if you met in line at Whole Foods, would offer to carry your groceries. And while I don't have groceries with me when we meet, I do have my boyfriend with me. Originally there only to drop me off chauffeur-style, Chad soon finds himself talking with César about topics ranging from Buddhism to natural resources. But this, I suspect, is the allure of César. He can pull you in with a magnetism not reserved exclusively for dogs, but rather for the potential he sees in humanity. And after offering Chad the keys to his motorbike parked nearby, it's clear his meteoric rise to the top has rendered him unaffected.
César and I roam parts of his 43 acres in the rural outskirts of suburban Los Angeles that will house his new Dog Psychology Centre. He tells me about his new-found respect for women after being raised in a culture that doesn't promote their value. He tells me about lessons he's learned from the likes of Dr Deepak Chopra, Dr Wayne Dyer and his own wife, Ilusion. Adored by A-list clients, he tells me: "It's not about the home in Bel Air. Humans live their lives based in stories. Dogs live their lives based in reality." While it is this wisdom that has contributed to his becoming a household name, his list of tangible accolades grows. He is best-selling author of Cesar's Way, Be the Pack Leader, and most recently A Member of the Family. He has been a guest on Oprah, portrayed as a character on the animated series South Park, parodied on Saturday Night Live, and is co-founder of the non-profit The César and Ilusion Millan Foundation. With a résumé like this, it's no wonder there exists a cult-like curiosity about all things Dog Whisperer. So as we sit down, me with my retro tape recorder and he with his startling eyelashes, I am determined to find out who this man behind the whisper really is.
MD: Do you remember when you realized your relationship with dogs was special?
CM: I was 13 years old. In Mazatlan, on my way to a Judo competition with my mom.
I declared: "Mom, I am going to be the best dog trainer in the world." That was what was available then. That profession. Which is great, but I didn't know I could actually practice dog psychology. That day to me, in front of this big statue, was the most clear moment when I knew there was no turning back.
MD: Have you been back to that spot?
CM: All the time. I'm very symbolic. That spot is a big deal to me. As soon as I land, I eat shrimp tacos, I get my mom, and we go to that spot. Just to express my gratitude.
MD: You credit your grandfather as the person who most instilled in you a respect for animals. Why?
CM: To him, everything about an animal was beautiful. He adored them. He didn't love animals in the way Americans love animals; he would get a kick out of that: To see a birthday party for a dog… He was the epitome of honesty, integrity, loyalty. And that's what he loved about animals.
MD: You're very open about the fact you came to America by unorthodox means. You were 21 years old when you crossed the border in 1990 after weeks in Tijuana assessing the situation. What went through your mind when you were standing neck-deep in a river, waiting for your opportunity to cross?
CM: It's unbelievable, but not one drop of fear came to me. I was not afraid whatsoever. Just the feeling of this is what I need to do. I was in the water for more than four hours… I felt like somebody was taking care of me.
MD: Originally you were homeless in San Diego?
CM: For two months. But the way I looked at it was that I was a tourist. When people ask me what is it I like about America, to me, it's the beautiful freeways. Plants in the middle of the road, well groomed. I'd never seen that. And so to me, I felt like a tourist, not an illegal guy running from anything. No place to live, no money. But I never begged; I worked. At 7/11 you could get two hotdogs for 99¢. So it was enough. One of the things I always wanted to drink was soda. My mom did not allow us to drink soda. And here, you get refills! For $1.69 you can get all the soda you want!
MD: You come to America and this is the drinking problem you develop? What a rebel!
CM: Exactly! But I had never tried it before, out of respect for my mom.
MD: Here's a quote by Anais Nin: "Each friend represents a world in us, a world possibly not born until they arrive. And it is only by this meeting that a new world is born." How did your friendship with Jada Pinkett Smith create a new world for you?
CM: Before I even knew Hollywood, I was watching a movie called A Low Down Dirty Shame. In one scene, there she was, in the fetal position, screaming. I told my wife: "I know that girl!" It just felt real. And later, I met Jada… and that was it. Boom! Every time I think about it, I get this emotion in my chest. My English wasn't what it is now. I shared with Jada that I wanted to take what I know to a higher level, and she sent an English teacher to me for a year. To me, she's an angel. She opened up my ability to communicate… In Mexico, I was surrounded by people who believed in me. I would be playing marbles and they would say: "Oh! He's going to win!" And Jada did the same.
MD: She saw you playing with marbles and knew you were going to win.
CM: Metaphorically speaking, yes.
MD: What advice can you give people who want more for their lives?
CM: It's available. It's there. The only obstacle and the only person who can stop it is you.
MD: In Dog Whisperer Ultimate Episode Guide, the authors admit the show has attracted some controversy. They joke that the only thing two dog trainers can agree on is they both don't like the methods of the other. Do you feel you've been misunderstood by critics?
CM: It is a matter of being misunderstood. I am not there to train the dogs. To me, a dog that is trained doesn't equal a dog that is balanced. And a dog that is balanced doesn't equal a trained dog. But I'd rather have a balanced dog than a trained dog… I've done more than 100 shows, and every one of them is positive reinforcement. People are learning it's not about the dog. And that's positive for society. I always say my way is not the only way. It's just an option, not the only option.
MD: The life your sons lead is 180-degrees different from the life you lead at their age. Arguably, your beginnings were more humble. How are you able to impart values like ethics, hard work, and respect onto them?
CM: My boys work for what they have. Right now, they are feeding the homeless. They learn every day about being compassionate. I don't care how wealthy they become as long as they work for what they have. Respect is a big deal to us. Gratitude. We all lived in the hood for a while in a garage in Inglewood. They totally get it.
MD: What is the one message you hope you leave behind?
CM: Connection. Between human beings and Mother Nature.
MD: How has fame changed your life?
CM: I see fame the way my dogs see fame. It's not real. It's a story. I am the same Mexican guy who jumped the border with a dream. Only with better clothes.
Ellen DeGeneres
Magazine: ModernDog
Issue: Summer 2008

Ellen DeGeneres on rescuing coyotes, blazing trails, and mouth-to-mouth on a sparrow.
"Life is either a daring adventure, or nothing."—Helen Keller
Through much of the mid- to late nineties, my friends knew not to call me on Wednesday evenings during a particular half hour. For 30 minutes, I had a date with Ellen Morgan, the fictional funny lady brought to life in comedian Ellen DeGeneres' series Ellen. But my sacred Wednesdays were about more than just channel surfing for a laugh. Wednesdays with Ellen, for me, became something of a young writer's church. I was learning my first invaluable professional lessons: Comedy can equal kindness. Hollywood can equal humanity.
After multiple episodes of build-up—including innuendo that had Morgan stepping out of her hall closet—the world heard words never before uttered by a leading character on TV: "I'm gay." While supporters cheered, not everyone was in favour of her landmark announcement, and ultimately, in 1998, Ellen Morgan took her final bow.
If the late nineties were about coming out, the new millennium was about coming back. After surviving her own brand of both personal and professional hurdles, a stronger, wiser, more into-her-own Ellen emerged in true phoenix-from-the-ashes style. She shone as host of a post-9/11 Emmy Awards.
Her ability to captivate a crowd with a mesmerizing blend of comedy and compassion was a sign of things to come: specifically, the September, 2003, launch of The Ellen DeGeneres Show, which debuted on the heels of her uber-success as the voice of Dory in the Oscar-winning animated hit Finding Nemo. With more prestigious award-show wins to her credit than you can count on your fingers, toes, and elbows, not to mention accolades that include a stellar performance hosting the 79th Academy Awards, here is an Ellen who has found her groove. Both figuratively and literally.
As I pull my car into the lot of NBC's Studio 11 in Burbank for our noon-time chat about her love for all things animal-esque, the vibe that this is the scene of a heck of a lot of DeGeneres-spawned dancing is palpable. The irony is not lost on me when I am told that today's taping is for Wednesday's show. After all, Ellen and I—and Wednesdays—go back a long way.
MD: I don't want to get too personal, but what's your favourite line in Salt-n-Pepa's "Shoop"?
Ellen: I'll have to sing the whole song…
MD: Feel free.
Ellen: Here I go, here I go, here I go again. Girls, what's my weakness? Men. Okay then, chillin', chillin', mindin' my business… Yo, Salt, I took a look around and a couldn't believe this, I swear, I stared, my niece, my witness… I think "My niece, my witness." To rhyme with: "I couldn't believe this." The brother had it goin' on with somethin' kinda – uh – wicked, wicked… I'm not shy so I axed for the digits. And it's I "axed" for the digits. She "axed" for them.
MD: She took out a sharp object and axed for them.
Ellen: Yeah.
MD: You've achieved a lot of firsts. First woman comic to be invited to sit down with Johnny Carson. First openly gay leading role in a sitcom. First show to win the Emmy for Outstanding Talk Show in its first three years. Do you feel comfortable calling yourself a trailblazer?
Ellen: The thing I focus on is my path, and if it somehow impacts other people, good. I don't do it to be a first. I do it for my challenges. So when I do something, I don't ever think: Wow, nobody's done this before! My life is my journey, and mine alone. I either feel good about something, or if I don't, I know I made a mistake [and I] learn from it.
MD: So the trail you are blazing is your own?
Ellen: Yeah. Which I think we all should be doing. There are so many people that get to the end of their lives and have never fully done what they wanted to because they're scared. And people get so comfortable with the uncomfortable. No matter how bad their life is, their job is, whatever the situation, they do what it is they think they're "supposed" to because they're scared and [anything else] is the unknown. But the unknown is exciting.
MD: Helen Keller said "Life is either a daring adventure, or nothing."
Ellen: Helen Keller was brilliant. Like, look at that. Look at who she was.
MD: In your mom's book Love, Ellen she talks about how you always had a houseful of rescues. Birds and a chipmunk and a dog called Happy.
Ellen: Ironic in our family. Our family's dog was named Happy. We had to label something. "No, no. We are happy!"
MD: What is it about animals that always made you gravitate towards helping them?
Ellen: I cannot imagine not going home to animals. They are the closest thing to God. They don't harbour resentment. Somebody put it really well: If you hurt a dog, the dog may, years later, remember you hurt him if he sees you. But he's not going to spend all those years planning how to hurt you the next time he sees you.
The compassion I have for animals is from the earliest memories I have. I kept files and copied things out of encyclopedias for what was going to be my office, because I was going to be a veterinarian.
MD: Right. The American Express ad. Your childhood ambition: To work with animals.
Ellen: My entire childhood was spent copying things out of encyclopedias and rescuing. And doing mouth-to-mouth resuscitation on birds that flew into windows.
MD: Did you attempt this?
Ellen: I did. And it actually worked. My father was humiliated. It was at a car dealership. It was a bird that went into the window and everybody just looked at it. I'm a kid and everybody's going on with just looking at cars and I ran out and grabbed it.
MD: Not true!
Ellen: Yeah. I have a million bird rescue stories. I rescued a hummingbird that had drowned. A hummingbird! Which is the weirdest thing. It was not at all responding. Its eyes were closed. It was just laying in the palm of my hand, soaking wet, and I took it and put its beak from flower to flower, and all of a sudden I saw its tongue come out of its mouth. I couldn't believe what was happening—to go from being a lump in my hand, to its eyes opening, to literally taking off.
It was at a horrible point in my life where I was so depressed and it saved me. I realized that you never know when a hand is going to scoop you up and put you from flower to flower. To me, animals are an amazing example of who we can be and what the connection is.
Whether it's a dog or a cat or….I rescue things I shouldn't. I almost had a coyote in my car once that I thought was a dog. I almost had it. People were honking at me and it was in the middle of the street and I had the car door open and I was calling it. Everybody was screaming and honking, and I'm like: "You shut up! Why aren't you saving this dog?!" And then as it got closer, I was like: "I think that's a coyote."
MD: So what have you got at home now? Dogs, cats, cows…?
Ellen: Portia and I have three cats and two dogs. Wolf is a Maltese-Poodle mix and Mabel is a Standard Poodle.
MD: So you're a Poodle gal?
Ellen: Well, not necessarily. I'm an anything. If I could, I would have 15 cats and 20 dogs. We have the space and we continue to try to rescue everything we can, which [accounts for the Iggy] situation. But I believe in a harmonious dynamic. You don't force animals to get along. That's like forcing a roommate to live with you and go "Oh, you'll get along with that person!"
MD: Have you recovered from the heartache of Iggy?
Ellen: I think I felt like a victim. For me to have been on any kind of attack for an animal issue felt like "This is crazy."
I thought I was saving an animal. The way I read it was that if you cannot provide a good home for the animal, it comes back to the shelter. And so I provided a good home.
I've learned a whole lot. I had no idea it really meant making a phone call and saying "Is this okay?"
I'm the most honest person you will ever meet—to a fault. I will show you exactly how I feel. I happen to have a talk show. So, I talk about whatever is going on in my life. I had spent all night trying to save this family from losing their dog. It was a dog that I knew was in a good home and I couldn't just do a show without talking about it. Unfortunately, I wasn't able to completely contain it and I lost it.
MD: I don't think that's unfortunate, Ellen. It was a genuine moment.
Ellen: Well, it was a moment that people aren't used to seeing on TV.
MD: But this is an industry that needs to learn that seeing something real is lovely.
Ellen: Well, thank you. I mean, believe me. It wasn't pretty. I didn't walk away going: "That made me look good."
MD: Crying usually does make people look good though. Bawling especially. I like to look bloated and puffy.
Ellen: Yeah. I like to do that ugly cry, where people can play it over and over again.
Anyway, I've gotten over it to the extent that I know it was an interesting moment in time that I had to go through for whatever reason. For me, it raised a lot of issues. As long as an animal is protected and safe, that's the most important thing. There are too many dogs that need homes. Our Standard Poodle was a show dog done with her career, and the guy wanted a better life for her because she was living in a kennel, [so] we got a seven-year-old dog that's fantastic and loves the cats.
Then we have Wolf, who is a rescue. We got [him] off the street from a guy who—this is a horrible situation—walks up and down Sunset Boulevard in front of expensive restaurants with puppies, knowing full well someone is going to say "How much?" He smuggles them in from Mexico. Most of them don't make it.
MD: So are Mabel and Wolf the inspiration behind your decision to buy into Halo, Purely for Pets pet food?
Ellen: You know everybody does different things. A lot of celebrities do perfumes and clothing lines and certainly those things have been offered to me. And I do wear perfume and I do wear clothes…
MD: Oh, you do wear clothes? I wasn't sure what I was going to find when I came in here.
Ellen: Yes, I do wear clothes. Describe that I am wearing clothes right now.
MD: A bikini and high-cut sneakers.
Ellen: And a tube top. Yup, that's what I'm being interviewed in. We were approached and this was the dog food I was already using, coincidentally enough.
MD: You were using it or your dogs were?
Ellen: The dogs were using it. We weren't. But you can eat it if you want to. It's delicious. We used this dog food and loved it and it was just a beautiful meeting. I'm really excited about it all. It's just a great quality of food.
MD: Okay, quick gear-shift. Why do so many comedians abandon kindness when they step onto stage?
Ellen: Number one, most comedians, I would say, are angry inside—angry or sad or not dealing with things, and that's their way of coping.
Number two, is just conditioning. Which is why to me it's so important to show people there is another way to make people laugh. That you don't have to get a laugh at someone else's expense. Because it happened to me for a while after I came out, I was more sensitive to it. And it doesn't feel good. I think it's a lot smarter and harder to be funny without being mean. It makes you think in a different way.
MD: Recently you did your dance to Kanye West's "Stronger". (Th-th-that won't kill me, can only make me stronger.) Do you think that's a philosophy for you, personally or professionally?
Ellen: I don't think you have to take that approach to it. I think that everything you attempt makes you stronger. It's up to us to look at every single thing as a learning experience.
It goes back to animals. They wake up in the morning and the first thing they do is stretch. They eat and they exercise and they sleep and they want love and they give love unconditionally and they don't judge you. They are just pure love. They require all that we require. But we try to push it. We act like if we don't have this and don't have that. They don't look at another dog and go: Look at the ass on that dog, I should have an ass like that.
MD: They just sniff it.
Ellen: Exactly, they just sniff it. Which is what we should do. That's my point. Finally, we're getting to the point of this interview. If we would just sniff one another's butts….
MD: Next elevator ride, just lean in to whoever is there for a quick sniff.
Ellen: Yup, and then pee right against the corner of the wall. A life to me with animals, watching them and being with them, is all I need. I don't care about getting any stronger. I just care about being a good person and a kind person and trying to help animals have a voice. One thing I want to do at some point in my life is try to make the laws a lot harsher for people who abuse animals.
I just want to love animals and be around them all the time.
MD: And if that means rescuing a coyote and giving a hummingbird mouth-to-mouth, all the better.
Ellen: No, it wasn't the hummingbird I gave mouth-to-mouth to. Don't mix your birds. Someone is going to read this and try to give a hummingbird mouth-to-mouth and scrape the roof of their mouth. I never said give a hummingbird mouth-to-mouth. Don't make me look crazy. It's a sparrow that you give mouth-to-mouth to.
Actress Tori Spelling
Magazine: ModernDog
Issue: Winter 2006/07

When you are preparing for a 9 am phone call with Tori Spelling and the time is 8:57, you don't really expect the phone to ring in three minutes. After all, at 8:57, shouldn't the Bel Air-raised daughter of a television mogul be lying in bed eating bonbons in one of the über-posh bedrooms of her The Fabulous Life of… estate? At 8:57, there is still ample time in my regular old life to putter—dogs to feed, laundry to fold, 90210 re-runs to watch—before bonbon crumbs are wiped away and a well-manicured nail dials my number.
From child actor on 1980s classics like The Love Boat, Vega$, and Fantasy Island to 90210's eternal virgin Donna Martin, over the last two decades, the name Tori Spelling has conjured an array of images in the North American psyche. Most recently portraying a version of herself in VH1's highly-acclaimed So NoTorious, Spelling's roles in front of the camera have allowed viewers the opportunity to watch Aaron's little girl grow into her own. However, acting gigs aside, there has always been something about Aaron Spelling's daughter that left us yearning for more: more inside scoop, more juicy details, more what's-it-really-like-to-be-Tori? Perhaps this insatiable collective craving was never more apparent than in 2006, a year Tori Spelling will no doubt not soon forget. As Hollywood reeled from the loss of one of its legends after Aaron Spelling's stroke and subsequent death in June, celeb-voyeurs watched as Tori and mom Candy duked out the monetary details of life-after-Aaron in what has arguably been the grittiest Spelling production yet.
But there is a lot more to 33-year-old Victoria Davey Spelling than what we see on re-runs or read in tabloids (shame on us, one and all), a side that gossip-o-philes don't titter about at the water cooler: this first-time expectant mom is an award-winning ardent animal activist and humanitarian.
When the phone rings at nine on the nose, and the voice on the other end says: "Hi Mary-Jo, it's Tori Spelling," naturally, my first inside-voice response is: "What the heck is the Bel Air-raised daughter of a television mogul doing calling me on time? Shouldn't she be eating bonbons?" But instead, I turn Donna and friends off, and settle in for a chat with the real thing.
MD: Okay, I need to know right off the top… Have you always been a Tori? Because I just can't imagine you as a "Vicky" Spelling.
TS: No, I've always been a Tori. My full name is Victoria. But sometimes when my friends are mad at me they're like: "Vick-eee…!"
MD: Has there ever been a time in your life when 90210 was really your zip code?
TS: No! And I never went to West Beverly High! There is no West Beverly High! I didn't even grow up in Beverly Hills!
MD: When did you first become an animal person?
TS: Oh my gosh. When I was born!
MD: Out she came and she asked for a puppy?
TS: Seriously. We always had a houseful of dogs. Like a minimum of three at all times. It was funny because when I was five years old, I was with my dad at Gladstone's…
MD: The restaurant?
TS: Yeah, in Malibu. And they had a lobster tank. And I was just horrified. I went outside by the ocean, and I was crying, and my dad came out and I told him: "One day when I grow up, I just want to live on a big piece of land with all the animals…"
MD: Is it true you wanted to be a vet?
TS: I did, when I was five. Right around the time of the lobster tank incident. I always wanted to work with animals… And then, when I signed with my agent, she said to me: "Hey, you're an animal lover, right?" And I said: "Oh my gosh! The biggest!" And she introduced me to Much Love Animal Rescue. That day, I went home with a new agent, a new cause, and a new rescued canine.
MD: Hey, better than Christmas: A new dog, and an agent too!
TS: Only in Hollywood, right?
MD: Who are your animal children now?
TS: I have a lot. I have Mimi LaRue, my Pug. I have Ferris, like Bueller…he's a Chihuahua-Jack Russell mix. And our newest addition is Chiquita, she's a Corgi-Chihuahua mix. I rescued both Ferris and Chiquita from Much Love. And I have two cats, Madison and Laurel. My eight-year-old stepson (son of husband, actor Dean McDermott) wanted hamsters, so we have those now, too. And a fish.
MD: Is Mimi LaRue kind of the queen of the pack?
TS: She rules the house. She and Chiquita haven't quite meshed yet. We just got Chiquita in March. I actually got her while filming my show So NoTorious. On it, I play a version of myself, so on the show, I run a rescue shelter. And we actually had one episode where we had Much Love in the episode. So we had this adoption fair where I'm working the booth and so they brought in different dogs that were up for adoption, and Chiquita was one of them. And the funny thing is, she and Ferris look almost identical. Except one is all white and one is all black. They're like bookends with a Pug in the middle.
MD: A little Mimi sandwich on a piece of white and a piece of brown?
TS: Exactly. It looks funny though because Mimi dresses in clothes a lot…
MD: On her own…?
TS: Well, I help her.
MD: With the zippers?
TS: Yeah. She's been on So NoTorious with me and she's kind of famous for her attire. She has her own designer who makes her clothes, Little Lilly. They make the coolest, cutest dog clothes. And they send her stuff to wear all the time.
MD: Which is quite funny because, if she's a Pug, she has kind of the anti-supermodel body.
TS: Oh yeah, tiny waist! Top heavy. Hmmm, kind of like me! We're perfect together. I always joke though that you work hard as an actress to get to that status where designers are sending you stuff, and my Pug gets more free stuff than me!
MD: That is absolutely no fair.
TS: Well, Little Lilly will send two outfits, one for Mimi and one for Chiquita. And bless her heart, but Chiquita just can't pull it off. She's just so stout. She tries though, she really does.
MD: You're like: "Mommy loves you, but let's try something a little more flattering."
TS: Exactly. She's just a bit too rock and roll. She's more of a rocker-chick.
MD: We need the Chiquita Supernova line… How's your husband with all these animals?
TS: Great! We say that he has two stepkids and we have one natural, because I already had Mimi and Ferris, but we got Chiquita together.
MD: One natural? Soon to be two natural with an actual human baby on the way! Congratulations on that big news!
TS: Thanks so much! We're very excited!
MD: I don't suppose you were able to include any of the canines in your wedding ceremony?
TS: No, we got married in Fiji. And we had absolutely nobody there. Just us.
MD: Can you tell me what Much Love Animal Rescue is all about?
TS: Much Love is a non-profit, no-kill, animal rescue shelter. In LA, they scour the shelters and will pick up dogs that are due to be euthanized. They depend on foster parents and local vets to help. We do adoptions every weekend. And their goal is to one day open an animal sanctuary.
MD: Which is sort of like your little five-year-old-girl-self's dream come true, right?
TS: Yes!
MD: How long have you been involved with Much Love?
TS: About five years now. It's pretty hands-on. There are certain things you lend your name to because you believe in them and you want to help out. But then there are certain things that make you want to really dive in. And this is that thing for me. I have been on the streets of South Central chasing after a stray Chihuahua…and going under a car trying to get it!
Because it's animals…you know, I want to do more. I actually have a jewelry line (Maven), and for Christmas one year, I designed a diamond dog bone necklace for my agent. When I gave it to her, we just got this idea: What if we sell them and donate all proceeds to Much Love! I actually had to ask for it back, to use it as a prototype. And 100 percent of the profits go to Much Love. At this point, we have already raised over $25,000. It's been amazing.
MD: I understand that Much Love presented you with quite an honour this summer. I saw a clip of your acceptance speech and it was hilarious! [In part, her speech ran: "My family tells me that the word 'dog' was one of my first words. They told me first it was 'dad', second it was 'dog', and then third oddly enough it was 'mom'. I don't know why that order, but…"]
TS: They gave me a Humanitarian Award. There was a lot going on at the time. It was when the media was going crazy with everything. I knew I was going to get up there and people were going to look at me because of everything going on personally in my life. So I thought, why not make light of it rather than pretend it's not happening. I'm just going to get it all out of the way so we can focus on the real reason we're here. So I chose to do that, and everyone laughed and I think it made everyone feel a little more "Okay, phew." And the award itself, it was just…what an honour!
MD: How has having animals helped you get through such a kooky year?
TS: Animals are amazing. They don't judge you. It's unconditional. And you know, it is hard. And not just with recent events, but in general. I haven't had an easy road. In many ways I am thankful for that, because it's made me have to work harder. But I'm just like anyone else. I hear the rumours, the gossip, I go onto the blogs, and I read the weeklies.
MD: That must drive you nuts.
TS: It's hard… when people constantly slam you. It's hard to take. And you have to kind of rise above it and go on. And at some point you have to learn how to laugh it off, but we're all human and so it affects us on some level. And then you have your animals and they look at you and are like: "Oh, you're the best. We don't have any bad judgments of you!" Oh, they're so amazing. As human beings, I think that's our one fault, that we judge.
MD: I've heard you say that your dad was very influential on you when it came to a positive relationship with animals. Can you tell me a bit about the impact he had on you in that respect?
TS: Oh, definitely! My dad, oh, he was the biggest animal lover ever. Animals were his thing. They were treated like children. My mom would ask him not to feed them at the table at dinner, and he still would. He just loved them so much. On the weekends, he and I would go outside and just play with the dogs. I miss that.
MD: Who was your first pet?
TS: My first dog was Angel. She was a Poodle.
MD: Have you ever played that game where you take your first pet's name and your first street name, and you come up with what your porn star name would be?
TS: Yeah, mine's Angel Palm. People think I'm lying when I tell them that!
MD: What have you got coming up that we can look forward to in terms of professional gigs?
TS: I just did a movie with my husband called The Housesitter. It's a thriller. And I will be guest starring in an upcoming episode of Smallville.
MD: What would you say that are you most proud of as a woman?
TS: I guess what I'm most proud of in general is of the path I have taken. Emotionally, spiritually…I think it's been a lot different from what people would think. It's been quite a journey, and at the end of it, I found something I really like. I found me.
The diamond dog bone necklace is available through MuchLove.org. If you live in the Los Angeles area, you can also check out MuchLove.org for weekend adoption locations.
Puppy Hell: A puppy mill exposé
Magazine: ModernDog
Issue: Winter 2005
Winner of The Maxwell Award for Best Feature Article during Westminster Kennel Club
The term "puppy love" conjures images of teen couples passing notes in the school hallway. All is warm and fuzzy. The term "puppy dog eyes" brings to mind big, droopy, please-love-me peepers reflecting innocence and loyalty. Both of these colloquialisms are made all the more appealing by virtue of one simple word: "puppy." Not only have we come to love the sweet little creatures themselves, but—let's face it—we love the word.
Puppy.
Perhaps it is this image of gentleness coupled with the jovial cadence of a word we love that has served to mask one of society's most disgusting realities. For those not in the know, the phrase "puppy mill" might conjure nothing more than an animated, cartoonesque conveyor belt, spewing out tail-wagging baby dogs. From the I Love Lucy bon-bon factory right into the arms of loving families. For many, little more thought is given to the idea of "puppy mill" as place of dog origin, than is given to the idea of stork as baby origin.
Perhaps if we replaced "puppy mill" with a more apt phrase— "torture chamber"—we'd finally be able to stand up and say: "Okay, now I get it." Maybe then our cocktail party chatter would be less about the dog-du-jour and more about the responsible adoption of—and lifetime commitment to—the dog-de-la-vie.
What is a puppy mill?
Let's start by getting that quaint old tune out of our heads and stop asking, "How much is that doggie in the window?" Instead, we should be asking, "Where did that doggie in the window come from?" And more specifically, "If I purchase that doggie in the window, what is my money supporting?" Because, quite simply, if the window in which that doggie sits is one belonging to a pet store, more than likely, that doggie came from a puppy mill. In a 2004 article in The Province, BC SPCA senior animal-protection officer Eileen Drever explained: "It's a fact that reputable breeders will not allow their puppies to be sold through pet stores." As defined by Canada's National Companion Animal Coalition, a "puppy mill" is a high-volume, substandard dog breeding operation which sells purebred or mixed-breed dogs to unsuspecting buyers.
Facilities that mass-produce puppies— and put profit above welfare, puppy mills create living conditions for their dogs that are deplorable at best. Picture, if you will, a warehouse. Imagine, within this warehouse, row after row and shelf after shelf of inventory stuffed into cramped, makeshift cages. The "inventory" in each box is half a dozen or more puppies, frequently hungry, sickly, and covered in the feces of the inventory shelved above them. And above them.
But wait. Those conditions are the Club Med of the mill. However neglected these puppies are, their stay will likely be short, given that some mills sell up to 150 puppies a week. The suffering is not so temporary for the lifers. The "breeding stock" animals are imprisoned in overcrowded, filthy cages and repetitively bred—even inbred—until they simply no longer can, often without ever experiencing the luxury of leaving their cages. Minimal vet care, poor-quality food, and small living quarters make up the sub-substandard conditions in which countless mothers give birth to hundreds of thousands of puppies yearly. While a reputable breeder will work with one or two breeds in order to fully understand and care for her puppies, a puppy mill operator may crank out up to seventy different breeds. When the mandate is to produce as many puppies as you can, as fast as you can, and as cheaply as you can, puppy mill dogs are reduced to the status of widgets. According to Stephanie Shain, director of the Stop Puppy Mills Campaign for the Humane Society of the United States (HSUS): "Legally, if an individual treated their pet the way dogs in puppy mills are treated, they could be charged with cruelty or neglect. But these mills are viewed as 'agriculture' and too often, the agencies responsible for overseeing them treat them like they are raising corn, not pets."
In 2000, a particularly horrendous case uncovered in Quebec infuriated the nation. The mill was littered with piles of dead, partially eaten dogs, in corners, behind the barn, and even hanging from rafters. Starving adult dogs were found eating their newborn puppies.
So, what is a puppy mill? A puppy mill is the rude, ugly, hateful cousin of the companion-pet world. The cousin who runs the risk of tarnishing the reputation of every member of the family, even the well-meaning ones. The cousin whose branch you wish you could chop from the family tree.
The dogs in our own backyards
Perhaps the biggest barrier that stands between North Americans and puppy mill reality is our distorted perception of self. The Canadian and American public blithely believes that puppy mills couldn't possibly be as bad as "they" say. Because, we're civilized, right?
As civilized as the man who stuffed five young Rottweiler puppies into a birdcage and left them there. Naturally, but tragically, these puppies continued to grow and, eventually, too large to be extracted from the cage, had to be euthanized through its bars. This didn't happen in some far-off, Third World country but in our own, tidy North American backyard.
What can Canada do to punish millers like this one?
The first stumbling block in bringing operators to justice is that they actually have to be found, and this is not an industry that works in plain view. Animal welfare laws differ from province to province, and penalties range from a slap on the wrist down to a mildly irritating tickle. Monetary fines range from $60,000 and two years' jail time to $2,000 and six months' jail time. And as Pierre Barnoti, executive director of the SPCA in Quebec explains, in his twelve years with the organization, he has never seen a puppy mill operator serve so much as one day of time.
Barnoti has become an oft-heard and respected voice in the fight for the eradication of puppy mills. He is quick to point out the irony that, at 136 years old, Quebec's SPCA is the oldest in our country, yet, up until only months ago, it was the only province with no animal welfare act in place. A mere nine animal welfare inspectors struggle to oversee a geographic area approximately six times the size of France. As such, it is a haven for puppy millers, supplying more dogs to North American pet stores than any other province or state.
South of the border, Shain estimates that there are easily over 5,000 mills in operation. While some local shelters and governmental agencies do investigate puppy mill conditions and intervene to rescue the animals, in many cases, it's unclear whether the shelter has the legal authority to step in. Even when they can take action, the magnitude of the situation is often so overwhelming that solving it becomes a monumental task. When a shelter intervenes, they suddenly find themselves with dozens of animals in need of care, housing, and food. A rescue of as few as fifty dogs can cost tens of thousands of dollars. Unfortunately, puppy mills are more than slipping through cracks. They are plummeting through craters.
The burden is ours
How could something like this not only continue but thrive as a profitable industry?
The answer is simple: Because of us—consumers who walk into pet stores empty handed, and walk out with a new designer dog. Or who see an ad in the paper and hours later pick up a puppy. Who surf the net and—wowed by irresistible photos—order up a dog as if it were a book or bouquet of flowers. In our obsession with having a "purebred" and having it quickly, we feed the industry. Pet stores cater to impulsive buyers seeking convenient transactions. On the other hand, reputable breeders and shelters care where their puppies go. Alison recently became the mom of Taz, a Border Collie-cross rescued from the Vancouver-based That'll Do Border Collie Rescue. Describing the screening she underwent before adopting Taz, she says: "The application process was incredibly thorough. Once my application was approved, a volunteer came to do a home check. Only after these two filters did I even get to meet him! Then, I had to wait another 24 hours before the adoption would be confirmed. The objective of the shelter is: No snap decisions! This isn't about a new stuffed toy, this about a possible 15-year friendship."
In addition to the little known fact that one in four dogs at shelters are indeed purebred, breed-specific rescue groups like the one that sheltered Taz exist continent-wide. There is no need to seek out the dog of your dreams from the puppy mill network, when countless are sitting unloved in shelters. The Pet Industry Joint Advisory Council (PIJAC) estimates that American pet stores sell between 300,000 and 400,000 puppies a year. If you estimate something in the range of $250 paid per puppy at the wholesale level, that's an astounding amount of money funneling into the pockets of puppy mill operators. No wonder they look at dogs not as "man's best friend" but as "man's best cash cow." And the cash is ours. As Shain says: "Puppy mill operators count on people to be so overwhelmed by the cuteness that they just can't leave the little bundle behind. But people must understand when they take the puppy home, they've opened up a space for the next one to fill." Put bluntly: "There is one really easy way to stop puppy mills. And that is not to buy the puppies." Ignorance is not bliss. We can longer wince at cocktail parties: "Oh no, I can't hear about it." We must hear about it. We must turn our backs on anyone who cannot tell us where that doggie in the window came from. We must be able to say: "Okay, now I get it."
When it comes to putting the innocence back in the word "puppy," the burden is ours. As responsible and thinking citizens, the burden is entirely ours.
Britney vs Spot: Dog names then and now
Magazine: ModernDog
Issue: Winter 2005

Atticus. Barney. Charlie. Esther. Flossie. And George.
No, not characters in your favourite old Bobsey Twins book, just a sprinkling of celebrities' dogs' names. (Okay, celebrities and one Modern Dog staffer.) A little bit of (very fun) research, and an intimate relationship with everyone's good friend Google, and accessing that all-important list of Hollywood's dogs is mere seconds away.
From Jennifer Aniston and the main man in her life, Norman, to Sienna Miller's two most loyal pals, Porgy and Bess, there is one dog clearly missing from the list. And if I could somehow squeeze in a Shakespearean pun-of-a-hint without it feeling too forced, this is where I would say: "Out, damn Spot!" But since that would be nothing short of an embarrassingly dad-like eye-roller, instead I ask:
What ever happened to baby Spot?
In those dusty red elementary school readers of old, Dick and Jane appeared to spend hours seeing Spot run. Times – and names – were simpler then. Humans had human names. Dogs had dog names. And, while I can't be sure since I wasn't there, it's rumoured that even a coffee was just called a "coffee". Stand at a dog park today and yell: "Spot!" and my guess is you'll have about the same level of reception as if you stood at the counter of your corner café and yelled: "Coffee!" The blank, confused, "who are you talking to and what is it you want?" looks would be nothing short of identical.
In the olden days, before they had modern conveniences like iPods, digital cameras, and reality TV (I'm serious, people used to live like that!), dogs were thought of as, gulp, dogs. Perhaps it could be argued that no other animal has evolved in the psyche of the western world quite like the role of dog. The Spots of old slept with the pigs and chickens in the barn and ate whatever scraps the family didn't finish at dinner that night. Even if they do have their own perfectly good, special-ordered monogrammed LL Bean bed, the Spots of today are tucked in between human-mom and dad on a Sealy Posturepedic. Imagine if the chickens and pigs had been so lucky? And today's Spots are no longer Spots, because well, who names a family member a synonym for "blob"? That's just so… inanimate. Like a chair. Or a bike. Weird.
Children of the 80s – okay, admittedly girls of the 80s, really – still sing the score made famous by everyone's favourite curly red-headed orphan cum little rich Warbucks girl, Annie. In an effort to select the perfect name for her newly found stray dog, the orphans did what any normal gaggle of girls would do. They burst into song:
"What's his name, Annie? Guess. Ah… FiFi? (That ain't a name for this mutt.) Well how about Champion? (Champion he's anything but.) We could call him Tiger. (But there's no fight in him.) Tiger? (Kittens would frighten him.) Rover, why not think it over? Rover is the perfect name for this dumb-looking dog."
While bursting into song is still a common problem-solving technique among people today ("What are you going to order, Mary-Jo? / Guess. / Ah… a martini? / That ain't a drink for this girl. / Well how about a merlot? / A merlot will stain my teeth red…"), what is most indicative of how times have changed are the names that Annie's 1930s depression-era friends suggest. FiFi, Champion, Tiger, and Rover are, well, names for a dog. How could people who could barely afford to clothe and feed themselves add to their list of challenges by thinking of a dog in human terms? It just wasn't done.
Over the decades, as dogs made the quick sprint from hay-pile to Egyptian cotton sheets, their names – like their sleeping abodes – became a whole lot more people-esque. Today, Molly, Chloé, and Lucy could not only be the kids in your daughter's kindergarten class photo, but dogs who are likely just as well dressed.
In a San Francisco Examiner article, onomastician (someone interested in the study of names – really.) professor Leonard Ashley says: "It may seem silly to get into discussing pet names, but it tells you a lot. It's human behavior. Mankind names things. And names show the psychology behind it all." In the same article, dogfood manufacturer KalKan spokesperson Alice Nathanson references a survey of dog owners in New York and Los Angeles: "More and more, pets are true family members." And so the names reflect.
But the human names selected for these canine monikers, are anything but random. Much thought is given to what a new parent will name their four-legged offspring. The result is a host of websites dedicated to this very important dog-naming process. One such site gives readers the crucial update on what celebrity names are most being used as the namesake for companions. In Britain, for example, there is an onslaught of names like "Britney", "Posh", and "Ozzy" strutting at the collared-end of the leash. Or, like actor Jake Gyllenhaal's dog Atticus, there is a trend to name after fictitious characters we admire. (What dog wouldn't be destined to achieve great things – if not in the court room, then at the very least chasing a stick – with a name reminiscent of Harper Lee's well-respected fair man Finch?) From favourite actors and authors to favourite homemaking gurus (there are more than a handful of barking Marthas out there), we are paying homage to our heroes and heroines by bestowing their names on the tags of our best friends.
Interestingly though, a search of what celebrities are naming their babies (the human kind) yields a slightly more disturbing reality. According to VH-1's All Access: Awesomely Wacky Celebrity Baby Names, celebrity baby names are getting all the more "awesomely wacky". With the birth of an Apple, a Racer, a Rocket, and a Rebel, perhaps the question isn't whatever happened to baby Spot? But whatever happened to babies Dick and Jane?
So while today babies are named after fruit and dogs are named after humans, it's not all that astonishing that ordering a coffee sounds less like ordering a coffee, and more like, say, writing a personals ad. (For what's it's worth, I like mine tall with no fat.)
The little man called Cowboy
Magazine: ModernDog
Issue: Summer 2006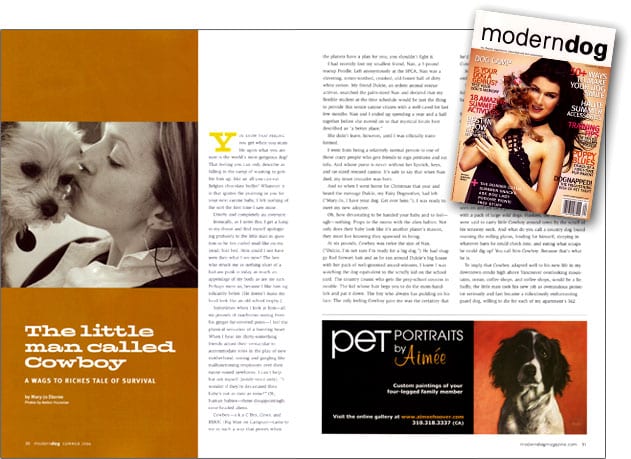 You know that feeling you get when you stumble upon what you are sure is the world's most gorgeous dog? That feeling you can only describe as falling in the camp of wanting to gobble him up, like an all-you-can-eat Belgian chocolate buffet? Whatever it is that ignites the yearning in you for your next canine baby, I felt nothing of the sort the first time I saw mine.
Utterly and completely au contraire.
Ironically, as I write this, I get a lump in my throat and find myself apologizing profusely to the little man in question as he lies curled snail-like on my (read: his) bed. How could I not have seen then what I see now? The boy who struck me as nothing short of a bad-ass punk is today as much an appendage of my body as are my ears. Perhaps more so, because I like him significantly better. (He doesn't make my head look like an old-school trophy.)
Sometimes when I look at him—all six pounds of machismo oozing from his ginger-fur-covered pores—I feel the physical sensation of a bursting heart. When I hear my thirty-something friends adjust their vernacular to accommodate roles in the play of new motherhood, cooing and gurgling like malfunctioning respirators over their runny-nosed newborns, I can't help but ask myself (inside-voice only): "I wonder if they're devastated their baby's not as cute as mine?" Oh, human babies—those disappointingly cone-headed aliens.
Cowboy—a.k.a C'Bro, Cows, and BMOC (Big Man on Campus)—came to me in such a way that proves when the planets have a plan for you, you shouldn't fight it. I had recently lost my smallest friend, Nan, a 3-pound teacup Poodle. Left anonymously at the SPCA, Nan was a shivering, rotten-toothed, crooked old-boned ball of dirty white cotton. My friend Dulcie, an ardent animal rescue activist, snatched the palm-sized Nan and decided that my flexible student-at-the-time schedule would be just the thing to provide this senior canine citizen with a well-cared-for last few months. Nan and I ended up spending a year and a half together before she moved on to that mystical locale best described as "a better place."
She didn't leave, however, until I was officially transformed.
I went from being a relatively normal person to one of those crazy people who gets friends to sign petitions and eat tofu. And whose purse is never without her lipstick, keys, and rat-sized rescued canine. It's safe to say that when Nan died, my inner crusader was born.
And so when I went home for Christmas that year and heard the message Dulcie, my Fairy Dogmother, had left ("Mary-Jo, I have your dog. Get over here."), I was ready to meet my new adoptee.
Oh, how devastating to be handed your baby and to feel—ugh—nothing. Props to the moms with the alien babies. Not only does their baby look like it's another planet's mascot, they must live knowing they spawned its being.
At six pounds, Cowboy was twice the size of Nan. ("Dulcie, I'm not sure I'm ready for a big dog.") He had shaggy Rod Stewart hair and as he ran around Dulcie's big house with her pack of well-groomed award-winners, I knew I was watching the dog equivalent to the scruffy kid on the school yard. The country cousin who gets the prep-school cousins in trouble. The kid whose hair begs you to do the mom-hand-lick and pat it down. The boy who always has pudding on his face. The only feeling Cowboy gave me was the certainty that he'd pick my pocket before I left. Dennis the Menace? Yes. Cute and heart-warming? Um, not really. My rather awkward blind date and I left Dulcie's and embarked on a get-to-know-one-another mission. While his exact origins are obscure, Cowboy came with a full set of urban myths—or, in his case, rural ones—tied in the bandanna at the end of his hobo stick.
He was found roaming the winter streets of Riverview, New Brunswick—a tiny enclave just across a skinny bridge from the sweet little city of Moncton. After a lot of door knocking, Dulcie found his unfazed family and reluctantly returned him. Concerned they showed such little emotion about their disheveled dog's return, Dulcie kept an activist's eye out. When she later drove by to check on him, he was attached to a heavy leash in freezing temperatures, sans shelter. Obviously malnourished, Cowboy made even the most emaciated runway model look fat. Dulcie politely offered to take Cowboy off their hands and met no resistance. And that, as they say, was that.
While his lonely home set-up was deplorable, it's his life prior that is most shocking. Cowboy is reported to have been seen on and off for a period of two years traveling homeless with a pack of large wild dogs. Huskies, the rumour has it, were said to carry little Cowboy around town by the scruff of his scrawny neck. And what do you call a country dog found roaming the rolling plains, fending for himself, sleeping in whatever barn he could check into, and eating what scraps he could dig up? You call him Cowboy. Because that's what he is.
To imply that Cowboy adapted well to his new life in my downtown condo high above Vancouver overlooking mountains, ocean, coffee shops, and coffee shops, would be a lie. Sadly, the little man took his new job as overzealous protector seriously and fast became a ridiculously embarrassing guard dog, willing to die for each of my apartment's 562 square feet. While the famous dog scenes in There's Something About Mary are funny on the big screen, in real life, it's less hilarious to unclamp your dog's teeth from the pants on a stranger's thigh. I have taken elevator rides that cost me the price of a new pair of chinos. And while every victim laughed, I found myself explaining, time and again: "Sorry, he's heavily medicated; his girlfriend just broke up with him."
The first summer Cowboy and I were friends, I was forced to wear winter clothes in the dead of July. My summer wardrobe budget went to Scott, the dog behavioural counselor who worked one-on-one with my son, and who told me Cowboy was the most manipulative, self-absorbed, single-focused-to-a-fault client he'd had.
It was in the moment of that diagnosis I knew I loved Cowboy. I was reminded of the poignant scene in the late-1980s cinematic classic Uncle Buck when John Candy sits across the desk from his niece's crotchety principal, after being told she's a "dreamer" and a "sillyheart." Uncle Buck: "I don't think I want to know a six-year-old who isn't a dreamer, or a sillyheart. I don't have a college degree. I don't even have a job. But I know a good kid when I see one. Because they're all good kids, until dried-out, brain-dead skags like you drag them down and convince them they're no good."
All of a sudden, I understood Cowboy. He's a survivor. End of story. No BMW-driving bottled-water-drinking dog shrink was going to strip him of that. Ensuring survival was Cowboy's shtick. And he wasn't giving that up for anyone. (Aside: In fairness to dialogue authenticity, if that line had come from Cowboy, it would've been more like: "And I ain't givin' that up for nobody." Then he'd push through the saloon doors, and scuff down the long dusty road.) I wanted to tell Scott: "I don't have a college degree. I don't even have a job. But I know a good dog when I see one."
When I look at Cowboy, I think of the stories he must know and will never tell me. Yet, I think even if he could share them, he wouldn't. A real Cowboy saves his stories for around the campfire, and even then, he leaves out half and makes up half. The mystery is part of their intrigue—the John Waynes, the Jack Palances, the Clint Eastwoods. The Cowboys.
While I didn't think Cowboy was all that charming when I first met him, I'm willing to bet that even the enigma of baby Clint took Mrs. Eastwood some getting used to. "Well, sure, I guess that raspy 'go ahead, make my bottle' voice has a certain appeal. Kind of. Maybe."
I am so sorry, Cowboy—my Big Man on Campus, my Dennis the Menace, my little survivor—I do want to gobble you up. And now it's here in print.
If you're looking to rescue a small – or any sized – dog, and you don't have your own Fairy Dogmother, please visit PetFinder.com. Your Cowboy is waiting for you there.